Dementia Training Australia (DTA) is pleased to support the Caring for Cognitive Impairment campaign in its efforts to improve knowledge and care practices to provide better outcomes and reduce the risk of harm to people with cognitive impairment in hospital.
DTA is a national entity, funded by the Australian Government.  DTA aims to strengthen the capacity of the health and aged care sectors to provide appropriate evidence-based prevention and early intervention, assessment, treatment and care for people living with dementia.
There are five Centres across Australia, offering a range of educational opportunities for health professionals, including online courses, workshops, seminars, webinars, scholarships, and undergraduate and postgraduate curriculum.  These opportunities support the translation of current knowledge and research into practical, effective approaches to helping people living with dementia and their families.
The DTA website provides a wide range of evidence-based eLearning training courses and lectures, as well as resources relating to dementia education, which can be downloaded or ordered online.  The website provides for online registration for forthcoming training events in each state/territory and online subscription for automatic notification of future events and the quarterly DTA eNewsletter.  All training courses and resources offered by DTA are free of charge.
E-learning courses available include:
Advancing Practice in Dementia Care
Evidence-Based Tools for Behavioural and Psychological Symptoms of Dementia Assessment
Timely Diagnosis of Dementia
Caring for LGBTI People with Dementia
Sexualities and Dementia
Physical Comorbidities of Dementia
Dementia Education Online
Supporting Overseas Qualified Nurses
These online training courses, as well as online videos and resources, include valuable information for people working in the acute care setting.  Another two online training courses which are near completion are especially relevant to acute care: The View From Here – Skills in Dementia Care for Acute Care Settings and Assessment and Management of Delirium in the Acute Care Setting.  In addition, various face-to-face workshops targeted specifically at health professionals working in acute care are delivered in conjunction with partner organisations throughout the year, and a design consultancy service tailored to the acute care setting is offered by DTA.  Scholarships are also available for junior medical practitioners working in the acute care setting to increase their capacity to provide appropriate dementia care.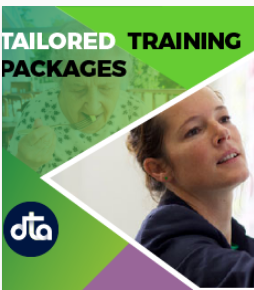 DTA also offers tailored training packages (TTPs) to hospitals that receive Commonwealth Aged Care Funding and are ready for a systemic approach to improving practice. DTA will work with your hospital to deliver a package of dementia related courses, services and resources, tailored to meet your unique needs. TTPs aim to bring about real changes in practice from the point of view of patients/clients, families and staff. They require a substantial commitment from organisations that are ready for change. A TTP starts with an assessment of staff training needs and the built environment. Once in place, it incorporates both training and environmental design.
Tags:
Supporters stories, Supporting organisations