A new Cognitive impairment Advisory Group was established in January 2020 to provide expertise, leadership and support to the ongoing work of the Commission's Cognitive Impairment Program. In particular, the group provides leadership and advice on the Program's work to support health service organisations to implement the actions relating to cognitive impairment in the second edition of the National Safety and Quality Health Service (NSQHS) Standards.
The previous Cognitive Impairment Advisory Group provided leadership and advice on the implementation of the Caring for Cognitive Impairment campaign and other program work.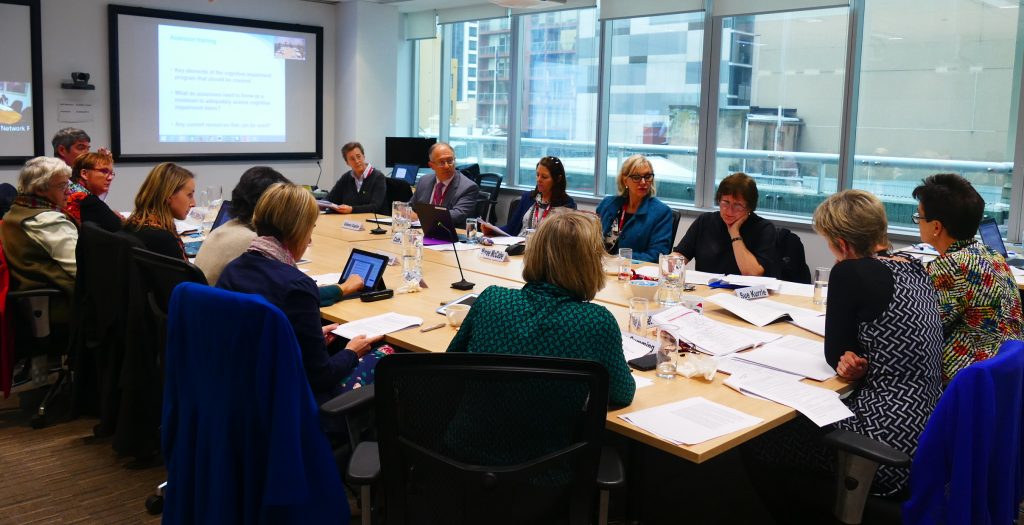 The former Cognitive Impairment Advisory Group during a meeting.
The group consisted of:
Professor Sue Kurrle (Chair), Geriatrician Researcher, Cognitive Decline Partnership Centre
Dr Glenn Arendts, Emergency Physician, Australasian College of Emergency Medicine
Ms Cath Bateman, Clinical Nurse Consultant  Project Officer, NSW Rural Confused Hospitalised Older Person's Program (CHOPS)
Ms Maree McCabe, Chief Executive Officer, Alzheimer's Australia
Associate Professor Gideon Caplan, Geriatrician Researcher, Australasian Delirium, Association, Australian and New Zealand Society of Geriatric Medicine (ANZSGM)
Ms Mary Etty-Leal, Deputy Director of Pharmacy, The Royal Melbourne Hospital
Dr Keren Harvey, Geriatrician and Clinical Director, Metro North Hospital and Health Service, Queensland Statewide Older Persons Clinical Network
Ms Joan Jackman, Carer Advocate, NSW
Dr Dina LoGuidice, Consultant Geriatrician Researcher, University of Melbourne
Ms Andrea Lomman, Senior Policy Officer, Sub acute, Community and Aged Care Directorate Department of Health, WA
Professor Dimity Pond, General Practitioner Researcher, School of Medicine and Public Health University of Newcastle
Fred Tanner, Aboriginal and Torres Strait Islander representative
Associate Professor Bruce Waxman, RACS Skills Centre Medical Director, Royal Australian College of Surgeons (RACS)
Ms Deidre Widdall, Project Officer, Cognitive Care Project, NT
Dr Juanita Westbury, Senior Lecturer, Researcher University of Tasmania
Associate Professor Mark Yates, Geriatrician Researcher, Dementia Care in Hospital Program
Ms Peggy Bain, Clinical Neuropsychologist, Allied Health Professions Australia
Mr Trevor Crosby, Dementia Advocate – Person who has dementia.
Former members included:
Ms Sue Mclean, Australian Private Hospitals Association
Ms Heather Nichols, Nurse Unit Manager, Cognitive Care program, Tasmania
Ms Christine Bryden, Dementia Advocate, Queensland

The Cognitive Impairment Advisory Group at the launch of the campaign. From L-R Deidre Widdall, Sue Mclean, Christine Bryden, Cath Bateman, Bruce Waxman, Heather Nichols (in front), Mary Etty-Leal, Gideon Caplan, Dina LoGuidice, Mark Yates, Dimity Pond, Carol Bennett, and Keren Harvey.